Boxer Rescue (UK)
Welcome to our Home Page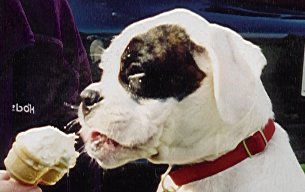 ---
We are an independent Boxer Rescue organisation, with no involvement with Boxer breeders or breed clubs. Although based in North Wales, and our main area of operations are Wales and North West England, we do operate throughout the UK.
Our aim is to care for and love all the Boxers who need to be found new homes. Every dog is behaviourally assessed, vaccinated and microchipped prior to rehoming, and we try to match, as closely as possible, every dog with a suitable new owner. All prospective homes are visited prior to rehoming any Boxer. We believe there is no substitute for a home environment and, as Boxers do not thrive in kennels, they normally stay with us prior to rehoming. We only refuse to take on a Boxer if we feel the dog is vicious, and beyond our help.
Advice is available for any problem relating to animal behaviour - all animal species - not just doggy related! Any consultation fee charged for this service is donated, in full, to Boxer Rescue (UK).
Typical Boxer Rescue Story
| | |
| --- | --- |
| | |
| BEFORE | AFTER |
This lovely Boxer came in as an RSPCA prosecution case a few years ago, but she is typical of the sort of problems which arrive here on Rescue. She weighed 24 pounds, and had obviously not been fed properly over a long period of time. She was very nervous, timid and took a great deal of encouragement to do anything but eat. Over a period of only two weeks, she responded well, gaining confidence and starting to play, for perhaps the first time in her life.
The second photo is of her exactly a fortnight later, looking happy and proud once more.
---
GUESTBOOK & E-MAIL
1. The guestbook is there for people to comment on the web site and on Boxer-related matters. It is not there to act as an alternative way of contacting Boxer Rescue (UK). Please use e-mail instead. If you want a Boxer, then a private e-mail is the best way of contacting Boxer Rescue.
2. Messages posted on the guestbook are seen by anyone who visits the web site. The guestbook, therefore, is public. E-mails are private, and are the best means to contact Boxerlady to discuss the possibility of having a dog from Boxer Rescue (UK), the rehoming procedure itself, or to air a grievance. No one is perfect, but all we at Boxer Rescue (UK) can do is our best, given our limited resources.
3. Please remember that Boxerlady is not always immediately available to reply to messages sent via e-mail. She could be anywhere in the country working on Boxer Rescue! If a reply is not received within 7 days, then please send a reminder message.
4. Bombarding Boxerlady with lots of e-mails within a short space of time is not recommended if you want to have a Boxer, and neither is posting such messages on to the guestbook! We understand your enthusiasm, but rehoming a dog is a serious commitment on our part. Please think before you send!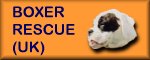 Boxer Rescue (UK)
Mobile - 07789 870117
E-Mail: bxarsq@aol.com
Please Note: WE ARE NOT BREEDERS - WE DO NOT SELL PUPPIES
---
Please spend some time visiting the different sections by clicking on Sam's nose.
| | | | |
| --- | --- | --- | --- |
| | About Us | Success Stories | |
View My Guestbook
Sign My Guestbook
Created: 24 September, 2000
Updated: 4 June, 2005
Copyright © 2000-2005 - Boxer Rescue UK - All rights reserved.